Hattiro
aus Wuppertal
offline




Basic OC
6 Jahre dabei !
Intel Core i3
3066 MHz @ 3680 MHz
19°C mit 1.25 Volt







---
Cooler Master Hyper TX3 Evo Reader Review














1. Introduction
Cooler Master offers with the Hyper TM3 Evo the replacement of the popular Hyper TX3.
The first apparent difference is that the fans are now mounted by an plastic brace and no longer by an metal bracket. And the maximum rpm of the fans has been lowered from 2800 rpm to 2200 rpm (manufacturer information).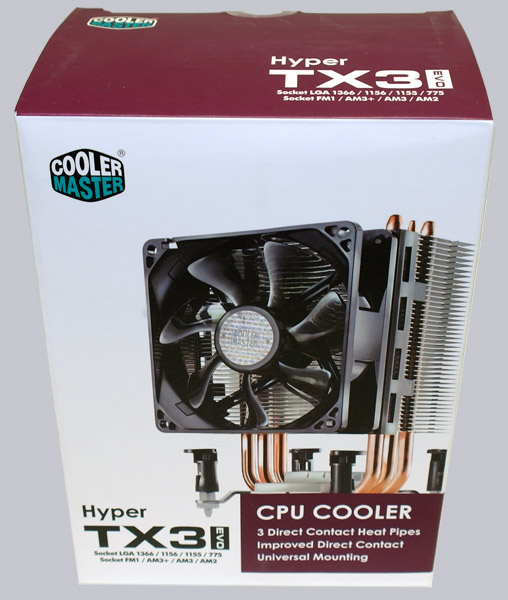 2. Scope of Delivery
Included in delivery are:
- Cooler with mounted 92mm fan (Cooler Mster with sleeve bearing)
- Metal holder for AMD socket systems
- A push pin holder for Intel Socket systems
- Multi language manual
- Tube thermal grease
- Two quick-snap fan brackets for an optional second fan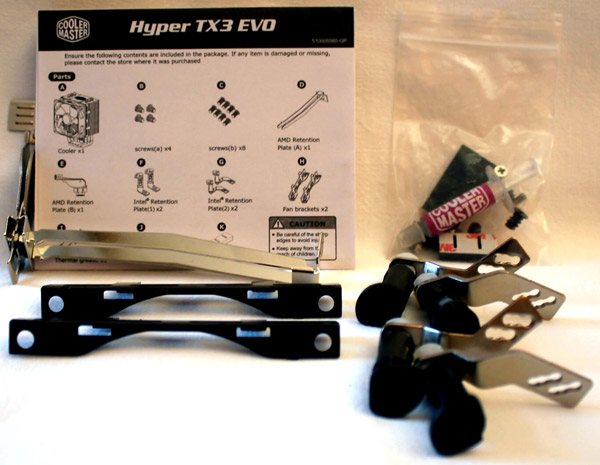 3. Technical data
CPU-Socket: Intel LGA 1366/ 1150 / 1156/ 1155/ 775
AMD FM1/ FM2/ AM3+/ AM3 /AM2
Dimensions: 90 x 79 x 136 mm (L x B x H)
Heat sink Dimension: 90 x 51 x 136 mm
Material Cooler body: 3 Direct Contact Heat Pipes / Aluminum Fins
Heat Sink Weight: 306g
Fan Dimension: 92 x 92 x 25 mm
Fan Speed: 800 - 2200 RPM PWM ± 10%
Fan Airflow: 15.7 - 43.1 CFM ± 10%
Fan Air Pressure: 0.35 - 2.63 mmH2O ± 10%
MTBF: 40,000 hours
Noise Level: 17 - 30 dBA
Bearing Type: Long Life Sleeve Bearing
Connector: 4-Pin PWM
Fan Weight: 73g
Cooler Weight: 386g


4. Test setup
Hardware (open test setup):
- MSI K9VGM-V
- AMD Athlon 64 4400+ @2200MHz
- 2 GB RAM
- Default CPU cooler: Arctic Cooling Alpine GT64
- Thermal compund: Coolink chillaramic
- OnBoard VGA
- SATA DVD-ROM
- Samsung HDD

Software:
- Windows XP 32bit SP3
- Prime95 (test duration 8 hours with full load)
- HWMonitor (for temperature and rpm control)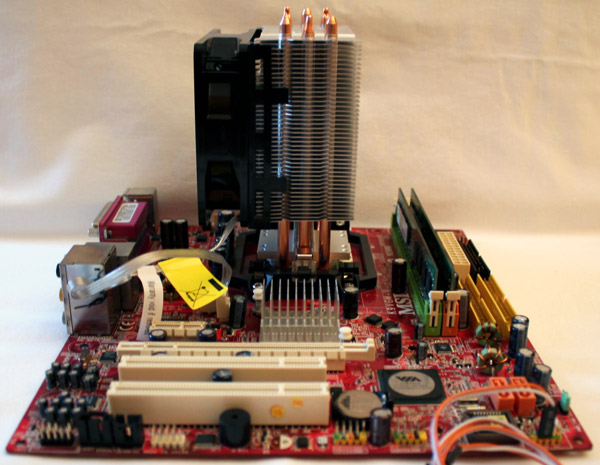 The cooler has 3 direct contact copper heat pipes they ends in aluminum fins.
The fitting on Socket AM2 is very simple, only bye locking the clamp u must be carefully and a little bit brave.
Cause you must use a touch of power to do this. Probably this can be difficult in smaller cases.

BTW: A short test mounting on an Intel Socket 1056 shows, that the push pin buttons are easy to use.

On my MSI MicroATX mainboard used was enough space for RAM Modules with heat spreader.
The declared fan speed from Cooler Master doesn't match with the result from the HWMonitor but rather has a maximum of 2636 rpm.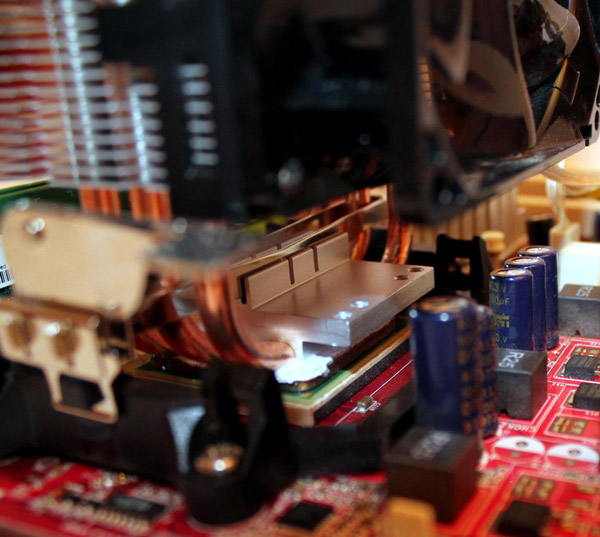 5. Test results
The ambient air temperature at all 3 tests has been 18.6 °C.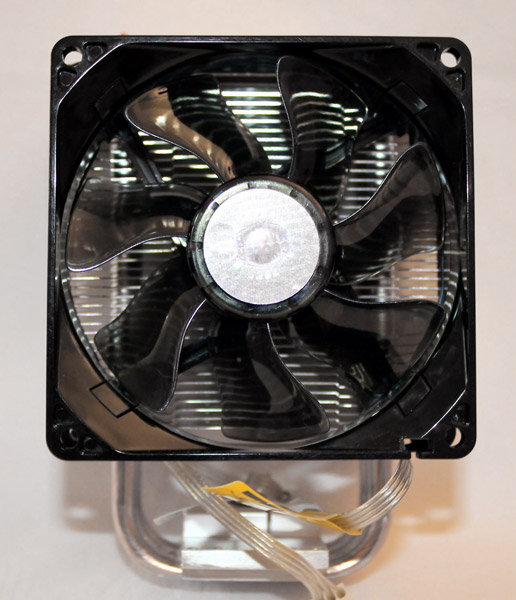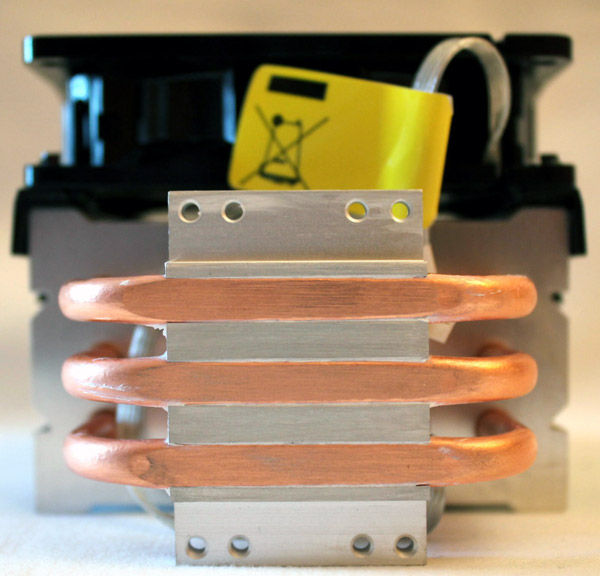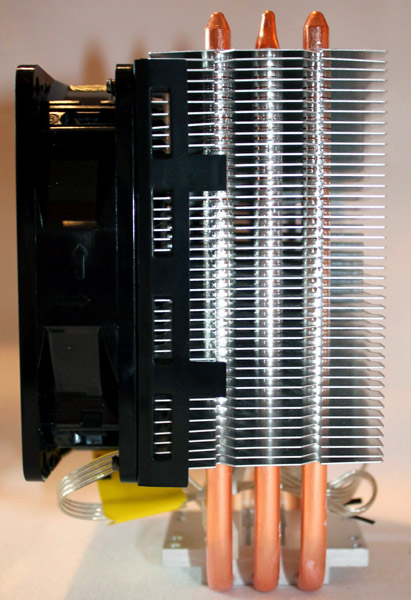 6. Conclusion
The Cooler Master TM3 Hyper Evo is at review date available for 20 EUR.
For this price I think it is a very good cooling solution.
The mounting is easy for an rookie as well.
The noise level is very low, also with an open test construction.
I'm sure that you can't hear the fan inside of a case or at least only a little bit.
The purchase has all you need to cool your CPU and when you need more cooling, simple use the delivered set of plastic clips to fit a second 92mm fan (which is not included).
Compared with the default Arctic Cooling Alpine 64, it shows how good the Hyper TX3 Evo is, mainly for this small price.

The Cooler Master Hyper TX3 Evo gets my purchasing recommendation for a tray CPU or if you like to overclock your existing cpu only a bit.

Here you can buy the Cooler Master Hyper TX3 Evo cooler.



Hattiro
---
Meine Baustelle:
http://www.nethands.de/pys/show.php?user=Hattiro